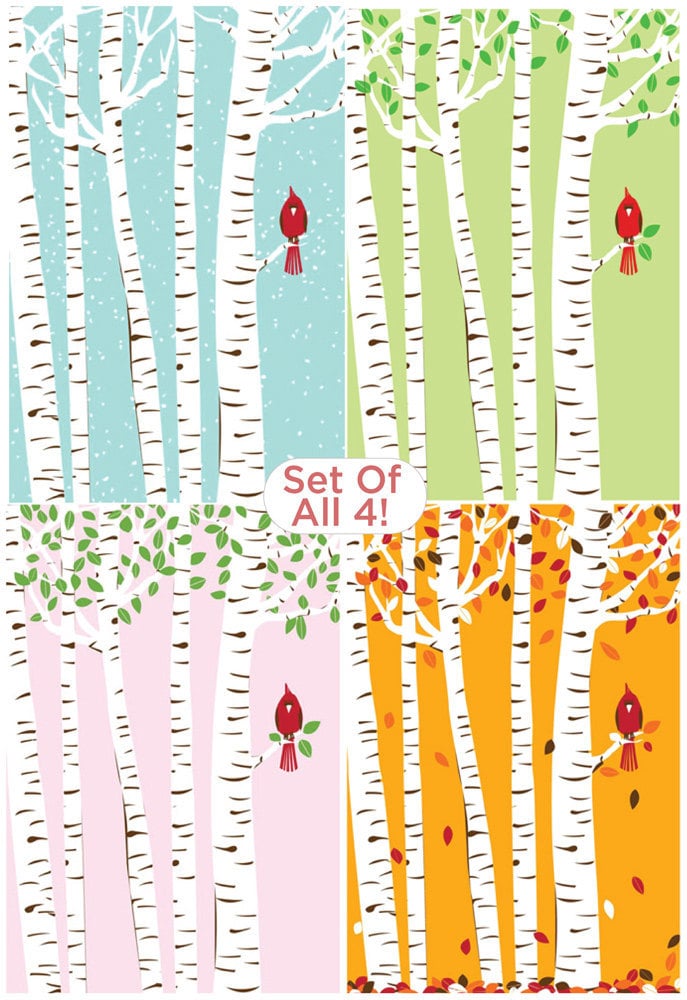 $

90.00
Oh baby! It's a 4 print suite. Sweet! Set of All 4 Cardinal prints, for a $10 discount.
Here's the background story on this series: We have lots of Cardinals here all year round. I love looking out of my window and seeing their amazing scarlet red color jumping out from wherever they are, and whatever they are up to.
And now you can have your own cycle of the seasons for your very own to display as a tetraptych or rotate through to mark the changing of the Seasons. As you best see fit.
In this suite set, you get all 4 Cardinal Season prints in the series, as a set at a special rate of $90 + shipping. (You save $10!)
Each print, from Winter Cardinal, Spring Cardinal, Summer Cardinal to Autumn Cardinal is a 4-color, all hand silkscreen printed by strawberryluna.
Inks: Hand mixed, non-toxic, water-based acrylic screen printing inks that are all coordinated to work together or separately. The Cardinal reds and Birch browns are the same color through all 4 prints.
- Edition: Open, each print is hand numbered, signed and titled.
- Paper: Archival, no-acid, recycled content, American made Cougar Opaque White, 100lb cover weight.
- Each print fits beautifully into either an 16x20 inch frame by trimming the border, or into an 18x24 frame as is with a 1" matte.
- Style tip: Keep all 4 prints in the same frame and rotate them throughout the year as the seasons change.
We also offer a 2-print set deal for $45, see the Any 2 Cardinal Prints listing for details in the Art Prints section of our shop.
Additional photos are from the hand screen printing process in my studio and show a lovely example of how these prints look framed. (Photo courtesy of Cardamom Press: http://cardamompress.com/ )